Risima Risimkin / Rosana Hribar
ORLANDINA
koreografija za Rosano Hribar / a choreography for Rosana Hribar
Koreografija / Choreography: Risima Risimkin
Ples / Dance: Rosana Hribar
Avtorska glasba / Original Music: Toni Kitanovski
Kostumografija in scenografija / Costume and Set Design: Alan Hranitelj
Lučno oblikovanje / Lighting Design: Aljaž Zaletel
Producentka / Producer: Živa Brecelj
Produkcija / Produced by: Plesni Teater Ljubljana
Koprodukcija / Co-produced by: Dance Fest Skopje / Interart Culture Centre
Program Plesnega Teatra Ljubljana sofinancirata Ministrstvo za kulturo RS in Mestna občina Ljubljana, Oddelek za kulturo / The programme of Plesni Teater Ljubljana is subsidized by the Ministry of Culture RS and Municipality of Ljubljana, Department for Culture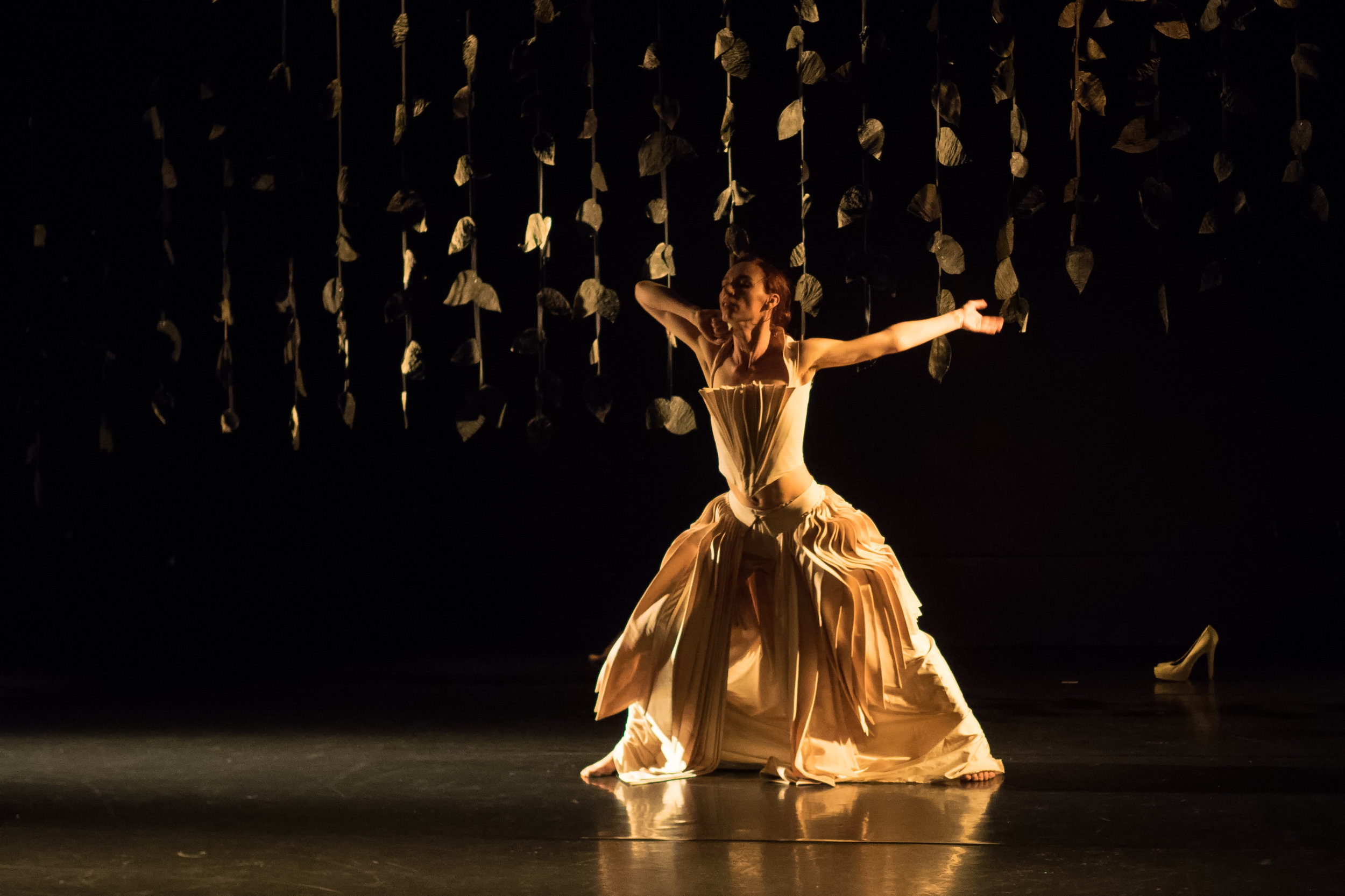 Foto / Photo: Drago Videmšek
O predstavi
Orlandina je predstava, posvečena plesalki Rosani Hribar in času. Izhaja iz knjižne predloge Virginie Woolf z naslovom Orlando. Orlandina, kot jo je poimenovala avtorica, je intimna pripoved plesalke, ki se prepleta skozi pogled treh močnih žensk iz različnih kulturnih, političnih in časovnih obdobij: Virginie Woolf, Risime Risimkin in Rosane Hribar.
»ORLANDO NI ŽENSKA, KI SE OBNAŠA KOT MOŠKI. ORLANDO JE MOŠKI. IN JE ŽENSKA. […..] IN V TEM NI NIČ NENARAVNEGA.«
Sharron E. Knopp
About the performance
Orlandina is a performance dedicated to dancer Rosana Hribar and to time. It is based on the novel Orlando by Virginia Woolf. Orlandina, as it was named by the author, is an intimate story of a dancer, told through the eyes of three strong women from different cultural, political and time periods: Virginia Woolf, Risima Risimkin, and Rosana Hribar.
"ORLANDO IS NOT A WOMAN ACTING LIKE A MAN. ORLANDO IS A MAN. AND A WOMAN. […..] AND THERE IS NOTHING UNNATURAL ABOUT IT."
Sharron E. Knopp